My main focus this past week has been getting another me-make finished.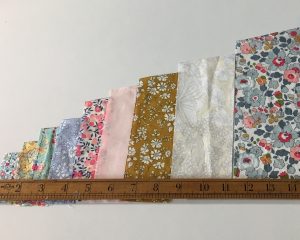 I have been putting a lot of thought in to where my stitching is going as a business, and how to move things forward, and have realised that I really do need to limit the number of commissions I take on now. In fact I didn't realise this, I have known it to be the case for a long while, so I suppose I decided I need to stick to this! Perhaps limit myself to one or two commissions a month, but definitely not exceed this and very definitely not agree to take on any more last minute or rush jobs, which seem to sap all of my time, creativity and simply put, don't pay.  I hesitate to write this as it makes me feel and sound very ungrateful, which is very far from being the case, but I'm sure that anyone who creates for a living will appreciate the conflict.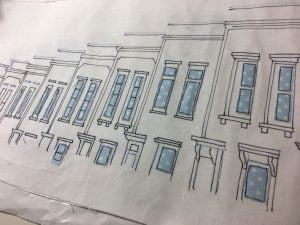 I have always felt that my difference is my detail, and the penny has dropped, the lightbulb has lit – detail takes time. Sadly time is not something that most people are prepared to pay for.  This is not a problem in itself – in fact there are lots of solutions, but for me, the key thing going forward is not to try to dilute my work, it's not to put less detail in to reduce costs, or to churn out lesser detailed products, but rather to find creative answers that allow me to continue producing products that I feel proud of, and that reflect my own style – after all, this is what always sells the best anyway.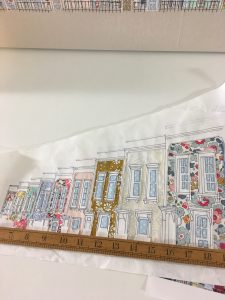 so after disappearing down that rabbit hole (I certainly didn't start writing this post aiming for it to be so deep and meaningful!) here is the result of this weeks stitching, a beautiful Bristol street, made from the most beautiful of Liberty lawns. This will be available to purchase soon on my web shop as a print – please get in touch if you are interested in pre-ordering.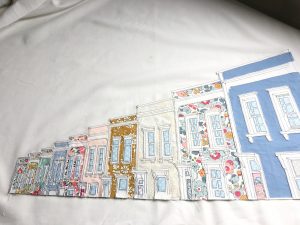 While I'm keeping things real, I thought I'd leave a final couple of shots … it was a sunny weekend, so I decided to take my Suspension bridge picture in to Bristol, to photograph in front of  the real suspension bridge – something I have been meaning to do for ages. I was so pleased with the first shot, but I also love the second, with Jean-Marc's arm holding the easel straight, and Amelie commando crawling on the grass – I can only imagine how this scene must have looked to a bystander (as while this was going on, I was crouching down, trying to take a picture, keep hold of my handbag, while stopping a roll of bubble wrap blowing away… and heaven only knows what Oscar was up to) which would probably made the best shot of all!
Thanks for calling by
Emma