Hello!  If you have found my site, then the chances are you are already familiar with my pictures or perhaps  just this style of work.  Either way, I hope you will enjoy keeping updated with the work I am doing.  I will try to post regularly about what is happening on my sketchpad/cutting table / sewing machine, to give you a taste of what I'm up to.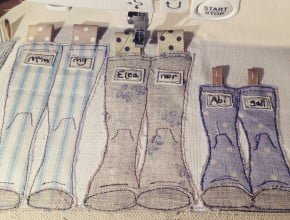 I spent a large amount of time last year making wellington boot pictures so I have decided to give myself a bit of a rest from making these for the time being.   In making this decision, I have had a sit down to think about what it is that I would like to do.  For me, the key was to ensure that there is a minimum amount of repetition in my work, and that as far as possible I keep working to create new and different pieces of work.  There are four areas I have identified to focus on, I will show you the first today which is childrens' artwork.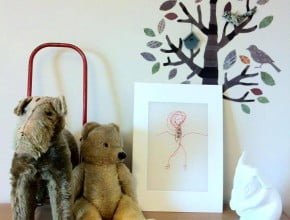 I have two children of my own, one who doesn't draw very much and another who draws a lot. It is always hard to throw scribbles – which mainly stay on paper rather than straying on the the walls and furniture these days – away, so I wanted to come up with a way of keeping special pictures, which is when I started making stitched pictures from them.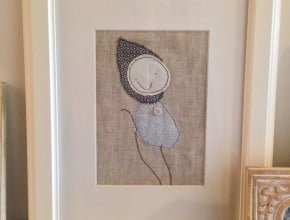 The original is scanned and I then use free motion embroidery to stitch the drawing.  I can either stick to the colours your child has chosen to use, or change them to match the colour scheme of a room.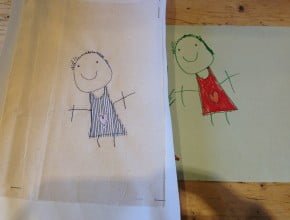 If you are interested in commissioning your own piece, please get in touch, or please pop over to my facebook page,where I am currently running a giveaway.  I am working hard to get a web shop up and running, which will be up and running in the next few weeks
Emma