Hello, and welcome to my website.  I am Emma, a textile artist, living in a small market town in South Gloucestershire.  I have always been creative, but before having children worked in a corporate role in an office environment.  I yearned for the opportunity to spend my time doing something I found to be a little more fulfilling, and whilst on maternity leave, I started experimenting with different creative techniques. The method I use to make my work – freehand machine embroidery – is essentially like drawing with a sewing machine.  Building up layers of material to create colour and texture, resulting in beautiful textile collages.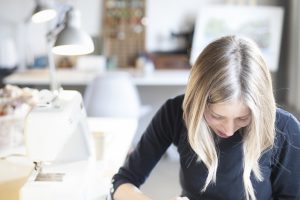 When embarking upon a new piece of work, I make a number of sketches, which I then translate to fabric. I work predominantly with linen, Liberty lawns and all things vintage and pretty.  My workshop (which is an old chicken shed) is on a farm near the river Severn, so I am surrounded with amazing scenery, which is a big influence on my work.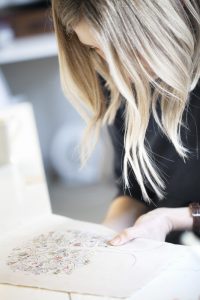 I am fortunate to enjoy an interesting and varied order book of commissions, and have made pictures with a wide range of subjects, varying from house portraits to vultures! Please get in touch with me if you would like to discuss your own commission piece.