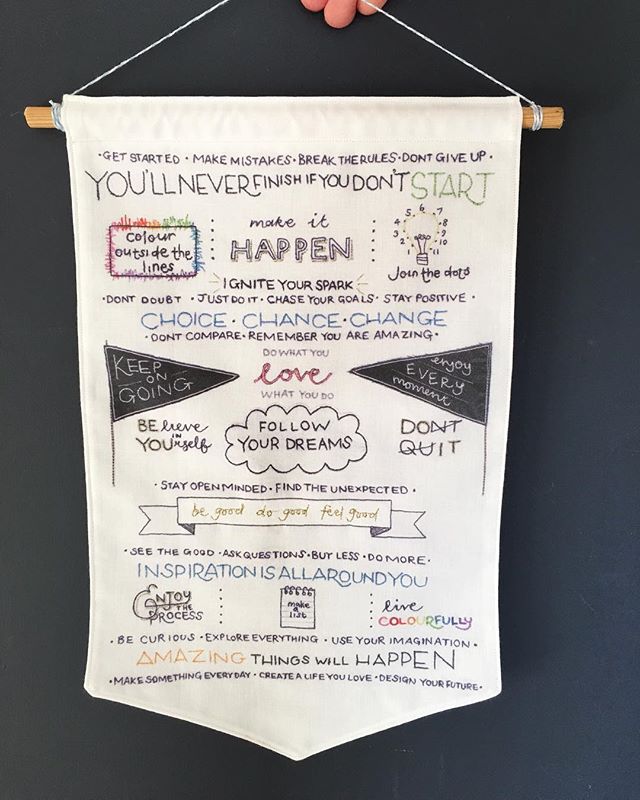 An extra special motivational Monday post, of a new product that I'm so very excited to share with you. .
Throughout August, I drip fed you with little snippets of what I was working on, and I can finally show you the finished piece. This banner is a collection of words of wisdom that I thought would be super-inspiring to keep in a workspace – a manifesto for makers if you will – to help keep us all on our creative paths.
I've had the original artwork printed on to cotton, so that it doesn't take too long or cost too much for me to make them, but, to keep them personal and extra special, I've also left a space in the centre of the banner that I can embellish with your own words to make it extra special and meaningful to you. (That being said, if you do feel like treating yourself, I also have four originals… I'm still deciding how best to frame them, but if you're interested, drop me a message)
This is my workshop banner, and the words I've chosen to add are taken from a few of the very many words that I took away from the congregation of inspiration on Friday – I'll be sure to post more on that throughout the week, but it really was a day like no other.
Happy Monday – hope you have a great week x